Tips For First-Time Climbers On Shopping For Quick Draws
Quickdraws are one of the most important tools you will need for a climb. Their primary function is to ensure that the climbing rope moves in a smooth and quick manner from the belay device to the climber and that the rope is always veering towards the centre during this pulling process. Like almost every other kind of outdoor sports equipment, quickdraws come in many different forms and vary in terms of price, size, width, length and weight. Here, we take a look at some of the factors that you'll need to take into account when purchasing a quickdraw.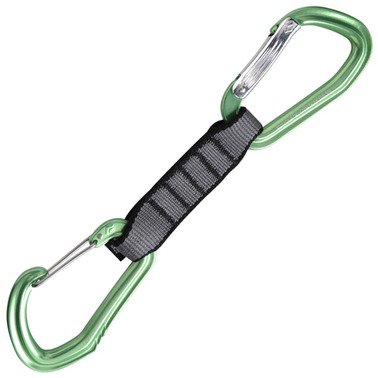 Sling and Dog-bone material:
The two carabiners that make up a quickdraw are joined together by either a small, but very strong piece of fabric with loops on either end, which most climbers call a dog-bone, or by a sling, which is simply one loop of sewn fabric. The most important point to think about in regards to the dog-bone or sling is what material it is made from. The vast majority of budget-friendly quickdraws are made using nylon. However, higher quality ones from brands such as Wild Country are often made using either spectra or Dyneema. These tend to be lightweight, but very durable.
Technology versus price:
The latest hot forging technology, used by Wild Country and other climbing brands, has resulted in a new generation of quickdraws, whose carabiners are made in more practical shapes whilst still being extremely lightweight. There are also new keylock features, such as reversed keylock, keylocking nose and hooded nose, which make the quickdraw far easier to use – however, this comes at a price. It's important to weigh up how useful these features will be, given how often you tend to climb, with the additional cost.
The width and length of slings:
Whilst traditionally, wider slings have been more popular than narrow ones, the latter are quickly becoming a favourite with climbers as they are significantly lighter than wide slings, but just as robust. However, the downside of choosing a quickdraw with a narrow sling is that these tend to twist a lot more easily, which may become irritating during a longer climber. In terms of length, longer slings and dog bones are better suited to sports and trad climbing, whilst shorter ones are a better option for rock climbing. The sling or dog-bone length has an impact on the amount of rope drag that a climber will experience; the longer it is, the less rope drag will occur whilst the climber is traversing.
Total Weight:
Weight should be one of the top factors you take into consideration when shopping for quickdraws, particularly if you intend to climb on longer routes, where you will need to make your climbing rack as light as possible. Brands such as Wild Country are known for making very lightweight quickdraws. Saving just a few grams could make all the difference during a tough climb. Most quickdraws weigh between sixty-five and one hundred and fifteen grams, which may not seem like much but when you're carrying twenty of them, you'll appreciate those that are lighter.
Guest article brought to you by Steve, an avid climbing fanatic and a regular shopper at Urban Rock, the UK climbing specialists.
---
More to Read:
comments powered by

Disqus